GALLERIES - RULES
As you know we have gallery pages now.
So, There is a few things I would like to cover for them.
THE DREADED RULES!
1. Do not edit the photo size,
The photo size is perfect at 185 px and it should not be altered any further. There was someone who boosted the size all the way to the top, it only fits 2 photos in a row if it is all the way up and takes up alot of space. 185 px means we can have atleast 3 in a row ♥
2. NO FANART
The Galleries are made so the photos from LPS Popular can be stored in a seperate place from the character page. If you have fanart you want to share you can head over to The Fanon Wiki or upload it here and not post it on any gallery.
3. PHOTO CAPTIONS
Photo captions is the text at the bottem of the photo. Actually take up a little bit of room. If you want to add a photo caption. Think to yourself "Is it worth putting 'Savannah and her friends together' Or should I not bother...Becuase its obviouse they are together' Long captions are also removed and shortened in needed.
4. DUPLICATION
Please make sure before you post a photo to the gallery you are not duplicating the photo. You can upload your own photos you took and havn't shared yet. Or just simply check the page for the photo before uploading
5. SAME PHOTO, DIFFERENT FRAME
If there is already a photo 1 frame behind/infront of yours. Please don't upload your photo unless it contains more than what was in the other one. Because it is the same as duplication.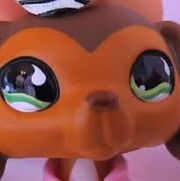 6. FACE SHOTS
If uploading a face/head shot. Please make sure it is showing most of the face. Not just the nose and mouth or just the top of the head. Make it clear that it is a face!!
7. BLUR
Please make sure your photo isn't completly blurred. Atleast take one that is easy for others to reconize who it is. Or It'll be removed ♥
I willa dd more rules If I think of any or the admins do. For now. Have fun ♥
A Zombie Ate Perry's Signature ☺₯ (talk) 20:51, January 8, 2014 (UTC)