The image for Season One of LPS: Popular is widely known throughout the franchise. However, as you progress into the series you know something is wrong about the cover.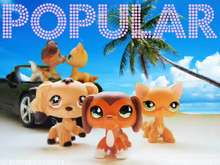 Makeovers
As many LPS popular fans might know, Genevieve Ryan and Angelina Davis befriend Savannah Reed in Episode One. They helped Savvy through her social breakthrough and romances, and, the most memorable favor: they gave her the makeover that started it all. Deeper into Season One, she returns the favor, altering Genny and Lina's appearances drastically.
However, there is an err.
The picture that represents Season One features a tan cocker spaniel as Genny and an orange short-haired cat as Lina.