This article is about the episode. For the article on the character, see Savannah Reed.
Savannah
is the first episode of the
second season
of
LPS: Popular
, and the eighteenth episode overall. It aired on December 24, 2012 as the first part of a two-part season pilot.
Synopsis
A lot can change in just a few weeks. Things seem to be going wonderfully for Savannah... but who says that can't be taken away in the blink of a perfectly made-up eye? There's a new beauty in town -- Brigitte. She's fresh, French and fabulous... and she's also a little too close for comfort...
Detailed Plot Summary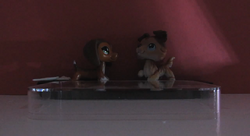 The episode begins with
Sage
and Savannah sitting together in a hospital waiting room. Sage asks Savannah how she's feeling, to which she replies that she's fine. A view of Savannah's face shows she has stitches, but she remarks that they "don't hurt". After a short conversation, the pair lean in to kiss each other, but a waitress arrives with an order of food - two hot cocoas and two slices of coffee cake. Savannah freaks out about the cake, but Sage tells her that it won't hurt her and that she's beautiful and doesn't need to lose weight. Savannah realizes she's been wrong, and eats the cake. This subsequently marks the end of Savannah's battle with anorexia. A ripple effect changes the scene and it zooms in on Savannah's face, showing us that the past scene was a flashback. Her alarm clock goes off and she gets out of bed, and we are met by a voiceover from her. Savannah tells us that the hospital scene was two weeks ago, and that it was the best night of her life.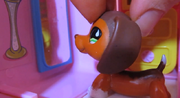 Trivia
In the beginning of the episode, Savannah breaks the fourth wall by telling the viewers about her relationship with Sage.
Brigitte LeBlanc makes her first appearance in this episode.